Souvenir Travel Patches Show the World Where You've Been (or Where You're Going)
Published Feb 24, 2023 by Rick Cundiff
As we head into spring and summer, many an adventurous soul turns to travel. Even if it's snowing outside your window right now, you might find yourself dreaming of sitting on the beach, a tropical drink in your hand, Jimmy Buffett on the radio.
Or maybe you love the romance of the road. Pack the Chevy and head out to Route 66. Breathe deeply of the great American Road Trip.
No? How about sitting in a little café in Paris, sipping espresso? Mais oui!
And once you get home, you'll have plenty of wonderful memories. But what kind of keepsakes will you bring back with you?
Custom Patches As Souvenirs
Allow us to suggest custom embroidered patches. They're a fantastic way to showcase all your favorite memories and create a unique keepsake you can wear. Add each patch one at a time to a jacket or vest and you'll keep a running journal of the places you visit. Sew-on patches make them permanent. Iron-on designs make them easy to apply. And Velcro® hook-and-loop fasteners make it easy to wear a different patch every day!
Where Do Souvenir Patches Come From?
You won't have any trouble finding custom-made souvenir patches just about anywhere you go. What makes them popular? That's easy. They're small, they're affordable, and they can feature wonderful artwork that's sure to remind you of your favorite destinations.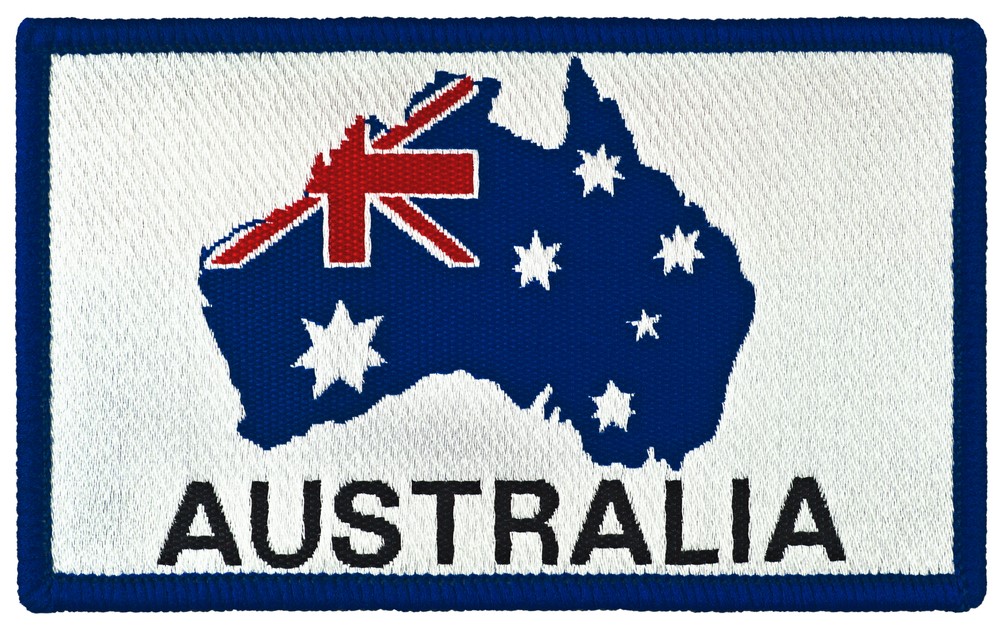 If you really want a truly one of a kind souvenir, however, there's another way. You can order your own custom patches with any scene want! Do you have that perfect picture of yourself and your spouse from Miami Beach? That special shot of your kids on the RodentUniverse roller coaster or WarlockWorld magic broom ride? Turn them into patches!
Ok, I Have My Custom Patches. Now What?
Now the real fun begins! You have multiple ways to showcase your custom patches and commemorate your trip(s).
It all depends on what you prefer. You can, of course, keep them at home in a shoebox, but where's the fun in that?
You want to be able to see your patches to recall your trips. Ideally, you'd like other people to be able to see them too. Don't worry, we'll discuss some terrific ways to do that.
The Basic Approach: Scrapbooks and Shadow boxes
One classic way to collect all your custom patches in one place is in a scrapbook. You can really get creative in designing pages, mixing patches, photos, tickets and other memorable items all in one place. Create a scrapbook that you can have fun browsing through on those dark winter evenings in front of the fireplace.
Shadow boxes are another popular choice. Once again, they give you the opportunity to mix patches with other keepsakes, including photos railway schedules and more. Hang them on the wall or display them on a tabletop to recall special times with special people.
Both shadow boxes and scrapbooks are fine if you want to keep your memories to yourself or among a limited number of family and friends who visit your home. But there's a much better way if you want to celebrate your adventures more widely.
The Answer: Custom Garment Patches
When you really want to share your travels with the world, there's a perfect solution – custom patches for jackets, vests or jeans.
That's right, you can become your own walking scrapbook!
Start with a basic denim jacket. As you travel, add a custom patch for each destination in your itinerary. One by one, you'll create a unique garment that perfectly represents your adventures around the world. The same goes for vests, jeans or even shirts
And you need not worry about how to attach your patches to the garment. It's a snap to add patches to today's materials.
Easy: Iron-on Patches
The fastest, easiest way to attach a patch is to iron them on. When you order patches with iron-on backing, you'll receive them with the heat-sensitive backing already in place. All you need to attach them is an iron, a cloth and a flat surface. It takes only minutes. Just be careful to ensure your material can take the heat of the iron and follow our easy, step-by-step instructions.
Patches, Like Diamonds, are Forever: Sew-On
Let's say you want your patches to last at least as long as the jacket they're attached to. Sewing them on offers a foolproof, truly permanent attachment. And it's not really hard to do. You don't even need a sewing machine. You can hand-stitch the patch in exactly the place you want it. And unlike iron-on styles, there's no need to worry about the material you want to attach the patches to. And don't fret, we have a step-by-step guide for sewing on patches too.
The Best of Both – Iron-On and Stitched
What happens if you like the simplicity of iron-on patches, but want the permanence of stitched ones? Not a problem! The secret is to iron on the patch, following the usual steps, then add a stitch or two at each corner of the patch. Presto, you have quickly attached a colorful, eye-catching patch, and ensured it will stay in place.
In fact, even if you want to fully stitch on a patch, it's not a bad idea to order it with iron-on backing and iron it on first. That way the patch won't shift on the fabric while you're sewing.
If You Want to Change Patches – Velcro® to the Rescue
Sometimes, you're just not feeling a certain patch. Or you're in an organization or group that might frown on what the patch shows. No worries. Custom Velcro hook-and-loop fastener patches are the answer.
This is, in fact, a very popular backing type for military patches. The Velcro makes it possible to transfer patches between uniform shirts.
They do require a small amount of sewing, but not much. You order the patches with the fastener. When it arrives, the back side of the patch will have the "hook" half of the Velcro attached.
You'll sew the "loop" half to the garment(s) you want to wear the patch on. Slap the patch on the garment and you're good to go. Take it off and transfer it to another shirt the next day. You get maximum flexibility.
Incidentally, did you know we have a dog to thank for Velcro?
Now Get Out There and Explore
Now you have the perfect excuse to travel. You gotta start your patch collection somewhere, right? What are you waiting for? (Well, ok, y'all in the Midwest are waiting for the snow to stop. You're excused.) It's your time to get out there and make some memories! And when you're ready to turn those memories into custom patches, just let us know!